Anxiety and Fear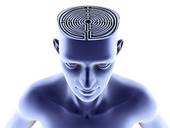 Is Anxiety a Disease?
If It Isn't, Can You Overcome It?
There are those who want to label anxiety as a disease, primarily because the symptoms have measurable physiological responses. That's an interesting take, assuming that having measurable physiological responses makes something a medical condition. That a condition that almost every human being has experienced in one form or another since the beginning of time is an illness.
For the past decades science has been able to track activated neurological processes occurring when parts of the nervous system perceive danger, real or imagined. That the condition of anxiety must meet certain requirements, that does not make it a disease, because perceptions and awareness of neurological signals cannot be a disease, regardless of consistent or pervasive.
They can indicate imbalances within the nervous system, hypersensitivity, misaligned awareness between the conscious and subconscious. They can indicate the need that somethings needs to change, but does that make it a disease? 
Labeling anxiety as a medical condition may be a comfort for those who feel they are different. It may be a convenience for those who wanting an easy way to talk about their symptoms. It also forces treatment to heavily rely on medications and while medication are a blessing for many, numerous studies (*) find anxiety medications to be no more effective than placebo's.
If the process of Anxiety is to stop, what needs to change?
What needs to occur is a means of being able to actually address and work through real and perceived stresses, sensitivities, and placement of awareness. It also includes changing ineffective life style choices and other underlining issues supporting anxiety. Medications may be needed to begin the process of restoring balance, however, this should be a short term approach

Those with chronic anxiety try using distractions, will power or plain out ignoring discomfort. They typically have no idea of underlining issues or life style choices playing a role in their discomfort. They'll change everything but themselves. They want change to happen under their control and within their comfort zone. If only changed worked that way.
Real change begins by changing aspects of oneself and how one processes life challenges. It begins with how we deal with adversity and the things we dislike. It deals with seeing and processing experiences in other ways. You can't hold on to how you want things to be and expect that you will be different.

It's a well known fact that how one perceives danger is for the most part a subconscious process. How our neurology interprets stress and danger is also outside conscious awareness. But that doesn't mean these things can't be changed.
Those born with certain sensitivities are particularly prone to misinterpret neurological signals. There is no universal manual on how to experience or process events. Most stress comes from our own interpretations of events, not from the events themselves. Because our perceptions feel real to us, we blur the distinctions between external events and how we process the events. It is not that is just in our mind, its that our subconscious process aren't finding more supportive perspectives

Misconceptions many do not want to hear
You can't hide from fear. It's a neurology process. Trying to avoid, ignore, push away or run from emotional responses created from within will eventually produce unwanted consequences
Will power on it's own is an ineffective means to deal with intense irrational or unwarranted fears. The minds frontal cortex region will not overpower the rest of the nervous system after a certain thresholds of discomfort have been met.
Doing nothing, changes nothing. Waiting prolongs the fear.
While medications can minimize symptoms, even help a person overwhelmed in stress, they do not remove imbalances, unresolved issues or help a person to better cope with life situations.
Those fighting these concepts too often get trapped on an emotional roller coaster ride. They get into a life style rut of reacting and feeling helpless.
Not all anxieties or fears are alike.
Fear
s cover a broad spectrum of cognitive, emotional and neurological signals and symptoms. Phobias are fears revolving around a particular object or subject matter. Panic attacks are sudden neurological reaction to a known or unknown source. Anxieties are anticipations of perceived consequences to life interactions, such as fear of ridicule, of making mistakes, of being misunderstood or taken advantage of. These processes can erode or create self esteem issues. They can also keep those needing assistance from reaching out for help. The fears stops them from taking the first step leading to the process of change.
Find Solutions to Overcome Anxiety
OCD. Find a counseling service that fully respects your personal sensitivities and desires.
At Designed Thinking, we help our client's comfortably address the real issues creating their fears and anxieties. In the end, they are more able to effectively process their thoughts and emotions. They feel a greater capability to cope with situations that in the past might have created anxiety
It is not just about changing your mind, it's about changing the way your mind processes and associates fear. At Designed Thinking, our client's experience a shift of focus, a restructuring of priorities, releasing old stuck patterns, allowing them the means of creating effective choice to better respond to situations and relationships. Call our toll free number 866-718-9995 and see how you can change.
* Carlat psychiatry-  The Placebo Effect: It Just Gets Better and Better