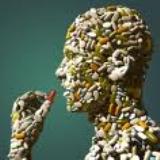 Prescription medications for OCD include Prozac, Luvox, Paxil, Xanax, Klonopin, Valium, BuSpar, Ativan and Zoloft
Use with caution
For treatment of anxiety disorders, including OCD, numerous antidepressants and anti-anxiety medications offer a broad-spectrum of choices and effectiveness.
The first specifically approved prescription medication for OCD treatment was the tricyclic antidepressant Anafranil. Since that time the SSRIs Prozac, Luvox,  Paxil,  Zoloft have been approved. Click here to check side effects of these medications
Read More
"Black Box" FDA Warnings for Antidepressant Medications

Despite perceived safety and popularity of SSRIs and other antidepressants, studies suggest usage can bring dangerous and understated side effects, especially for adolescents and young adults. In 2004, after a thorough review of data, the Food and Drug Administration (FDA) adopted a "black box" warning label on all antidepressant medications to alert the public for potential risks of increased suicidal thoughts in children and adolescents taking antidepressants.
Read More
How Deadly Medications Reach the Market

The FDA recently released it's report on the ten deadliest prescription medications and how many have died from taking these drugs. Since these are the deadliest prescription medications on the market, many wonder how the FDA could approve them.
There is a huge misunderstanding about the FDA's role in approving medications, believing they are somehow involved in the testing process. They are not, they never have been; it is not their function and approval process is far from perfect The information used to make the decisions of allowing the sale of any prescription medication is primarily based on studies conducted or funded by pharmaceutical companies. While there are guidelines, the standards as to how these test must be conducted and what information must be reported is still left to the companies who stand to profit from these drugs.
Read More
What to watch for – what you can do

Typically, antidepressants side effects will be temporary. For most people the initial side effects will not be serious. However should the symptoms persist or in anyway interfere with physical, mental or emotional functioning abilities, immediately contact the prescribing physician. These are powerful medications, which is why prescriptions are needed.
This article covers the antidepressants side effects of Anafranil, Prozac, Luvox,  Paxil,  Zoloft, Marplan, Nardil, Emsam, Eldepryl, Zelapar, Parnate and what you can do to get through the initial symptoms

Read More